Hear from our Fall 2020 Interns about their experience at WTCSav.
Q1: How has the WTCSav Internship Program prepared you for entering the job market?
Jessica: I developed interpersonal skills and learned how to build rapport on a professional level. I am more equipped to do research using sources such as the Bureau of Labor Statistics for economic analysis.
Karen: This internship was my first professional experience, and it gave me an international business perspective. I also developed strong qualitative and quantitative research skills which makes me confident to enter the job market.
Gracen: The internship provided me an introduction to professional etiquette and international cultures in addition to experience in research, marketing and communications.
Q2: What advice do you have for current students looking to get an internship?
Jessica: An internship is a learning experience, so don't be afraid if you aren't familiar with all the role entails. Go for it if you're passionate about the opportunity. Never be afraid to ask questions.
Karen: Look for an internship that will develop you professionally and allow immersion into the role with support from the organization. Search for opportunities where you can attend meetings and events to learn the business process.
Gracen: Apply to all professional development opportunities available. Utilize your professors and communities for leads and recommendations. Most importantly, do not give up.
Q3: What was the most rewarding part of your internship? What have you learned?
Jessica: The research I conducted prepared me for a career in business consultation and a graduate degree in business. I learned how to transform general information into data that would summarize my research findings. Most importantly, I learned how to explain my research process, finding and how it impacted the topic of concern.
Karen: The most rewarding part of the internship was helping host an international trade delegation. I also enjoyed learning how SEDA and WTCSav work together to accomplish a greater overall mission.
Gracen: I enjoyed learning the ins and outs of the workplace environment. This gave me insight into being a professional and what to expect entering the job market. I also developed my writing composition skills.
Q4: What do you wish you knew before interning that you would like to share with other students?
Jessica, Karen and Gracen: Ask for help!
Q5: Would you recommend other students complete WTCSav's Internship Program?
Jessica: Absolutely! I loved the program because everyone was friendly and willing to help, even if they were in a different department. Interning with WTCSav expanded my business perspective, prepared me for a career as a consultant and added value to my professional development.
Karen: Of course! I've learned so much and developed beyond what I could have imagined. This program allows students to immerse themselves in a professional environment while feeling they're making valuable contributions. When I look back a year from now, I will know that it was the WTCSav Internship Program that prepared me.
Gracen: I would most definitely recommend this internship program. It has helped me grow professionally and has made me more confident about beginning my career. I have learned more than I could have imagined, and I am grateful to the WTCSav team for this opportunity.
Jessica Jackson
Economic Research Intern
Business Economics Major
Georgia Southern University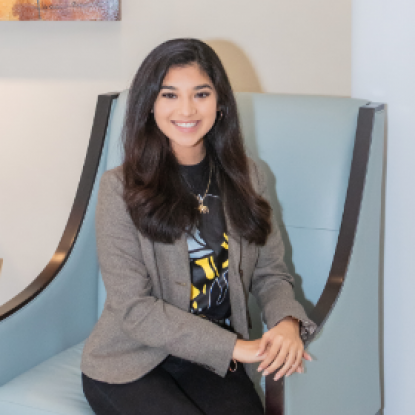 Karen Perez
Trade Services Intern
Global Logistics and International Business Major
Savannah State University
Gracen Mitchell
Floating Intern
International Affairs Major
Florida State University