Hear from our Fall 2021 Interns about their experience at WTCSav.
Q1: How has the WTCSav Internship Program prepared you for entering the job market?
Gil: World Trade Center Savannah provided a real-world experience that will help me market myself. Some of the knowledge I gained involved collecting data from the Census Bureau of Labor Statistics, interpersonal skills via professional communication and working remotely effectively when needed.
Karla: The World Trade Center Savannah internship provided a solid foundation to develop my administrative skills, research and data collection, and business acumen for future professions. I learned that professionalism extends beyond confidence, quality of work and attire. It is based on valuable and rewarding connections.
Q2: What advice do you have for current students looking to get an internship?
Gil: Apply early and try to stand out! Submitting an application well ahead of the deadline shows that you are punctual and excited to get to work. When you stand out, it gives people something positive to remember.
Karla: Select an internship that interests and benefits you. Do not be discouraged from applying to an internship if it does not entirely suit you. Consider what you might learn.
Q3: What was the most rewarding part of your internship? What have you learned?
Gil: The most rewarding part of my internship has been learning to work with data. This includes using research tools to navigate and target the information you need and then presenting the data in an easy-to-understand format.
Karla: The most rewarding aspect of the program was participating and observing relationship-building at its finest. The most valuable assets I gained through this experience were research skills, meeting new people and discovering career paths.
Q4: What do you wish you knew before interning that you would like to share with other students?
Gil: I wish I knew not to take anything for granted. I learned that some tasks are tedious and are not flashy. After attending a board meeting, I discovered that some of my research was presented to the board and regional partners. Although the work was time-consuming, it was rewarding to see the work helping grow trade and promote business interests in the Savannah region.
Karla: Contribute as much time and assistance as possible as an investment in your future. I dedicated time outside of my studies and a part-time job toward my internship at World Trade Center Savannah.
Q5: Would you recommend other students complete WTCSav's Internship Program? If so, why?
Gil: I have and will continue to recommend interning at World Trade Center Savannah. The values I have gained are immeasurable. I have honed so many skills and have been introduced to others. When I worked in the office, I felt incredibly professional, and it let me know what a caring team and environment should be.
Karla: Absolutely! The internship program is an opportunity to improve and distinguish yourself as you progress in your career. This organization has a great team that wants to see you and its community grow. The Director of Research and Trade Development, Ms. Jessie Jenkins, shared wisdom I truly cherished: Every opportunity is a means of new knowledge that you will use in the next chapter of your life, and there is always something to be learned. You have nothing to lose but everything to gain!
Gil Werntz
Economic Research Intern
Economic and World Language
Clemson University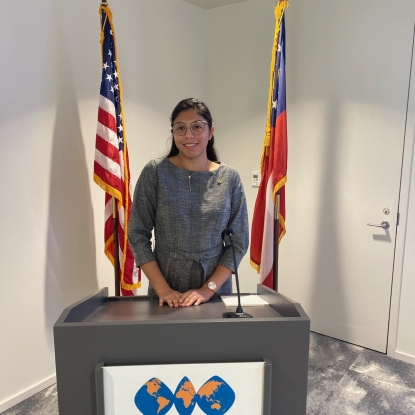 Karla Maynard
Trade Services Intern
International Studies; Women, Gender and Sexuality Studies
Georgia Southern University