Hear from our Spring 2023 Interns about their experience at WTCSav.
Q1: How has the WTCSav Internship Program prepared you for entering the job market?
Elizabeth: Because of this internship, I can feel confident transitioning into a company that has a professional work environment because I have a much better understanding of office culture. It has also given me more experience in event planning, guest relations and marketing that will be extremely beneficial for my future career.
Brandon: The internship has prepared me for the job market by showing me a little bit of day-to-day office life and the variability of what that can look like. Some days there were a lot of meetings or groups coming in and other days were more quiet – Things can really change from day to day.
Q2: What advice do you have for current students looking to get an internship?
Elizabeth: It's o.k. if initially you don't fully understand what the company you're applying to does. There are so many things that you learn as you go, and if you're lucky, you'll have a team of people around you as I did to answer your questions and help you grow.
Brandon: Make sure your resume is in great shape when you're applying to internships and prepare so that you are confident during interviews. If you're stressed during an interview, you may not think clearly through your responses and could appear unprepared or unprofessional. Do your homework!
Q3: What was the most rewarding part of your internship? What have you learned?
Elizabeth: The most rewarding part of this internship was being invited to attend so many different events including board meetings, business luncheons, event planning meetings, interviews, errands, and the list goes on. I'm so that that my supervisors gave me the opportunities to participate in so many areas so I could learn about professionalism in a variety of areas.
Brandon: The most rewarding part of the internship for me was being able to help the different groups who visit WTCSav. I learned so much about different countries' cultures while I was conducting research and that research was used for incoming and outgoing delegations.
Q4: What do you wish you knew before interning that you would like to share with other students?
Elizabeth: I wish I knew how respectful and kind everyone would be at the office and how much everyone values the interns as part of the team. If I knew that at the beginning, I would have been more relaxed and at ease. I wouldn't have put pressure on myself to feel like I needed to prove myself to everyone.
Brandon: I wish I knew to relax and not stress about the assignments given to me. After working on a variety of tasks for a few weeks, I began to realize that I was always given sufficient time for the assignments, and I didn't need to feel rushed. I also realized that my supervisors were always there to answer any questions I had or offer advice.
Q5: Would you recommend other students complete WTCSav's Internship Program? If so, why?
Elizabeth: I would 100% recommend this internship to anyone that is interested in marketing, event planning, communications, etc. This internship is a great way to gain a lot of meaningful work experience and plenty of soft skills such as professionalism and communication.
Brandon: I would recommend other students apply to this internship because it offered me so many connections with people from all over. I also got to learn so many different things about the local community, the culture of the different countries that WTCSav is engaged with and what SEDA and WTCSav are doing to bring business to the Savannah area. I'm very thankful for the opportunity.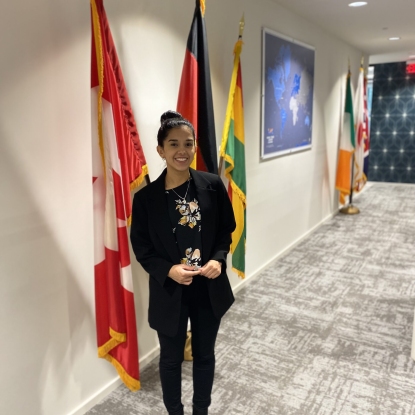 Elizabeth Ramirez
Marketing and Programs Intern
Georgia Southern University
Brandon Woods
Economic and Trade Research Intern
Georgia Southern University