Website Globalization
Date: September 14th
Time: 9 a.m. – noon
Location: 131 Hutchinson Island Road, 4th floor, Savannah, Ga. 31421
Facilitated by George Tracy, Director of the Atlanta U.S. Commercial Service, this program will share insight about the low-cost to no-cost modifications to internationalize your website.  The U.S. Commercial Service, part of the U.S. Department of Commerce, promotes U.S. products and services abroad.  The information provided is offered by the U.S. Commercial Service's Task Force on Website Optimization to businesses to assist them in maximizing their sales potential overseas.
Program Sponsor: U.S. Commercial Service
$25 program registration fee, registration is required.
Click HERE to register.
For more information contact LeAndrea Mikell at lmikell@wtcsavannah.org or 912.447.4157.
WTCSav International Business of the Year Award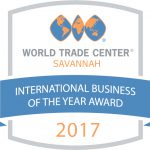 World Trade Center Savannah (WTCSav) is currently accepting nominations for the 2017 WTCSav International Business of the Year Award to be presented at the Savannah Area Chamber of Commerce Business Expo and Awards Banquet on Thursday, Nov. 2 at the Hilton Savannah DeSoto, 15 E Liberty Street, Savannah, GA 31401. The WTCSav International Business of […]